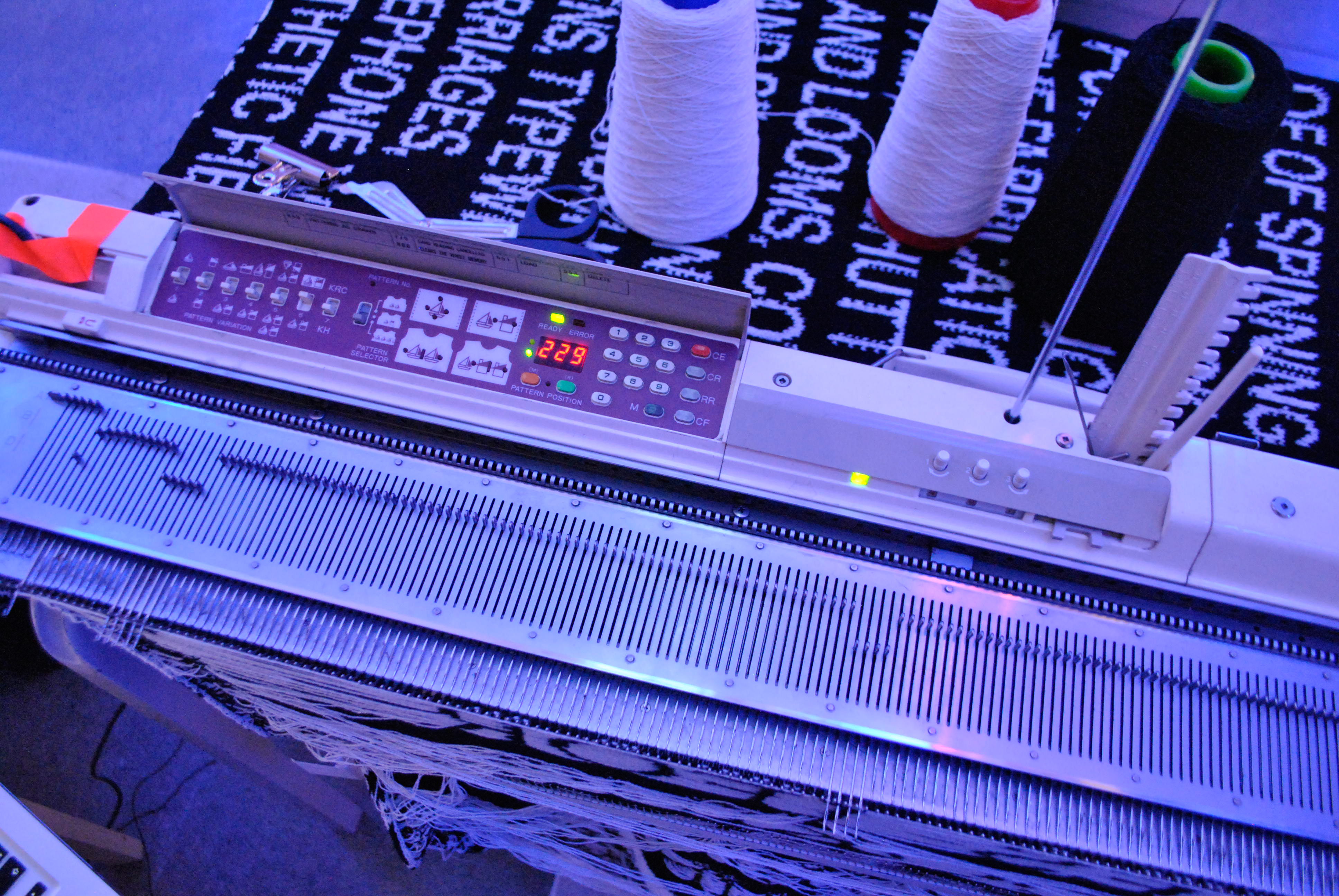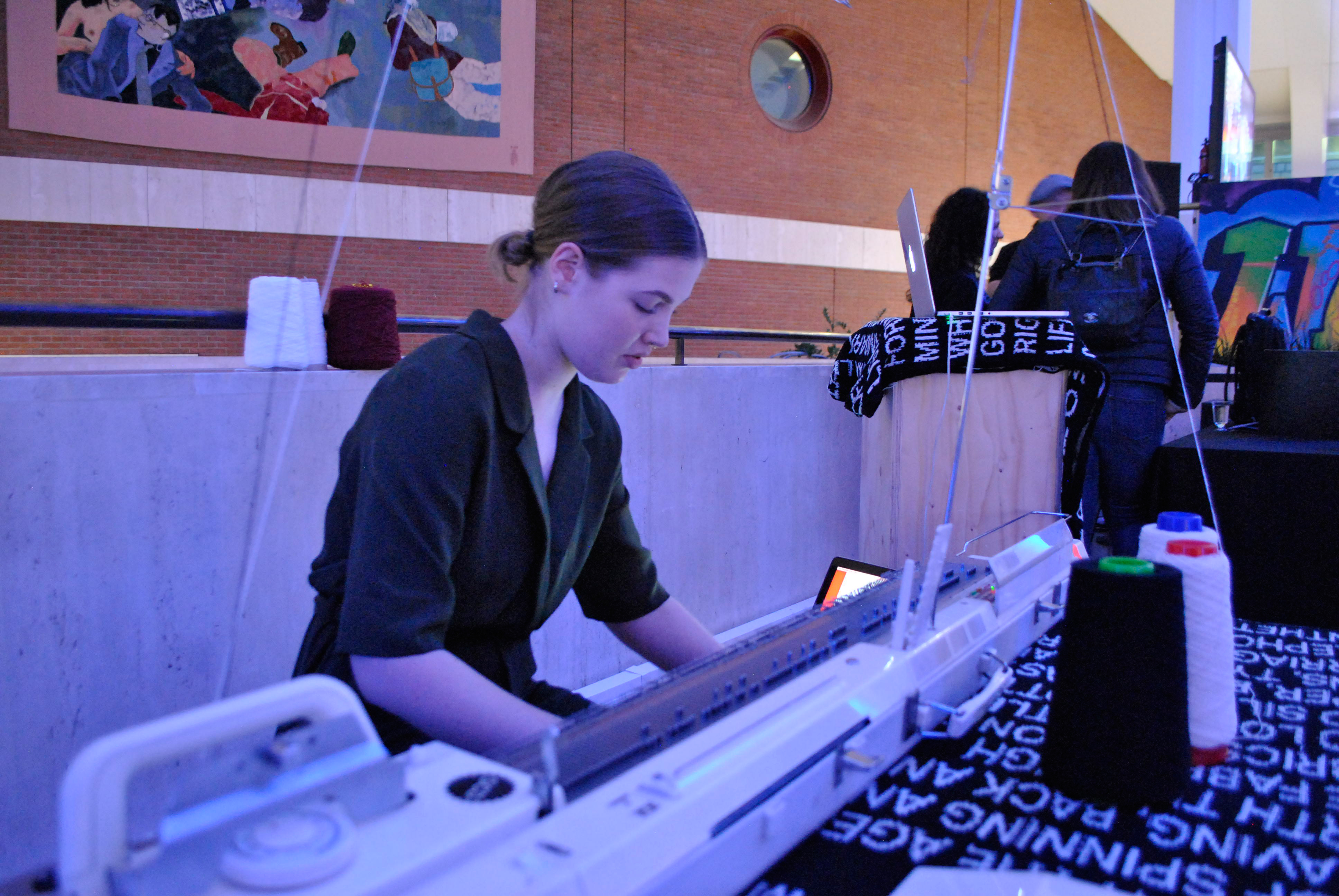 British Library Late
17 May 2019
We were Late at the Library to live knit a special version of </unravel;>. Together with staff, students and alumni of Central Saint Martins Graphic Communication department that ran workshops that explored and challenged letters as part of a collaborative programme of events during the
@britishlibrary
Writing: Making Your Mark
exhibition
You can read about the event
here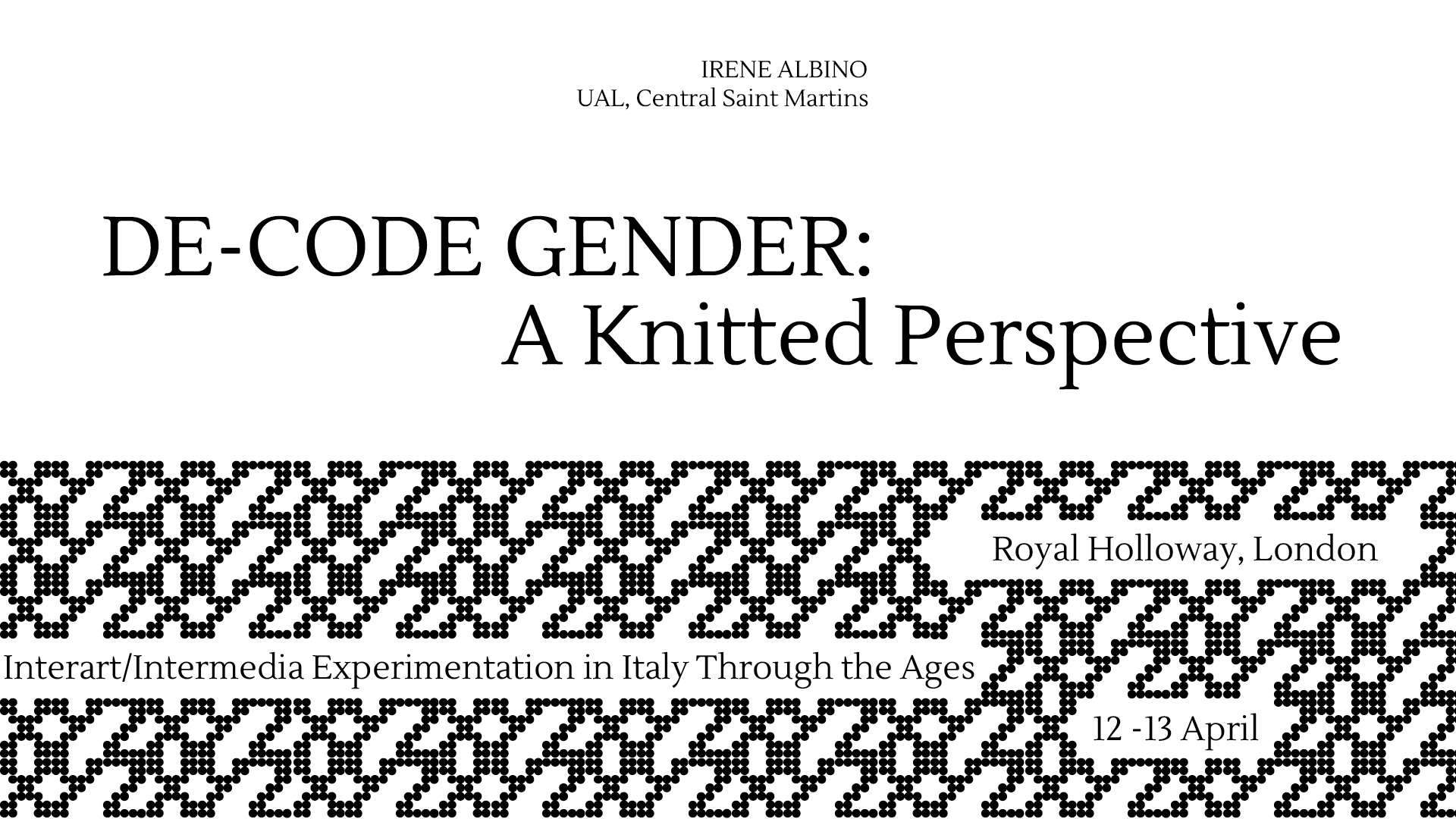 De-Code Gender: A Knitted Perspective

12-13 April 2019, London
We were invited to present the research and process behind </unravel;> at the
Interart/Intermedia Experimentation in Italy through the Ages
held in the Royal Holloway University of London, as part of an incredible range of interesting research papers in this
crossing of disciplinary boundaries
.
HackingThe Digital- Annual Visiting Practitioner Conference, Csm Foundation
14 February 2019, London
On the afternoon of February 14th we were invited to talk about </unravel;> and how we use
'the Digital'
within our creative practice, in a stimulating panel with
The Feminist Internet
and the
FineArtMaths Center
at the Central Saint Martins Foundation campus at Archway.
Corrrective. A Collective Exhibition
8 Nov- 4 Jan 2019, London
This corrrective coming together of seven recent graduates and friends looks at design from a feminist- queer perspective. The collective is meant to work on similar themes through a multidisciplinary approach as a force for change but also as a group of discussions. In November of 2019 we held our first exhibition at the Windows Gallery of Central Saint Martins, and we participated with </unravel;> Issue 2: Histories or Tales of Future Times Learn more about Co
rrr
ective
here
How to Hack The Brother
electroknitting Workshop

28 November 2018

Irene held an electroknitting workshop with MA and Stage 3 students, at the Graphic Design and Communication department of Central Saint Martins about how to hack knitting machines and why. (Thank you to all the students that took part and sent us pictures)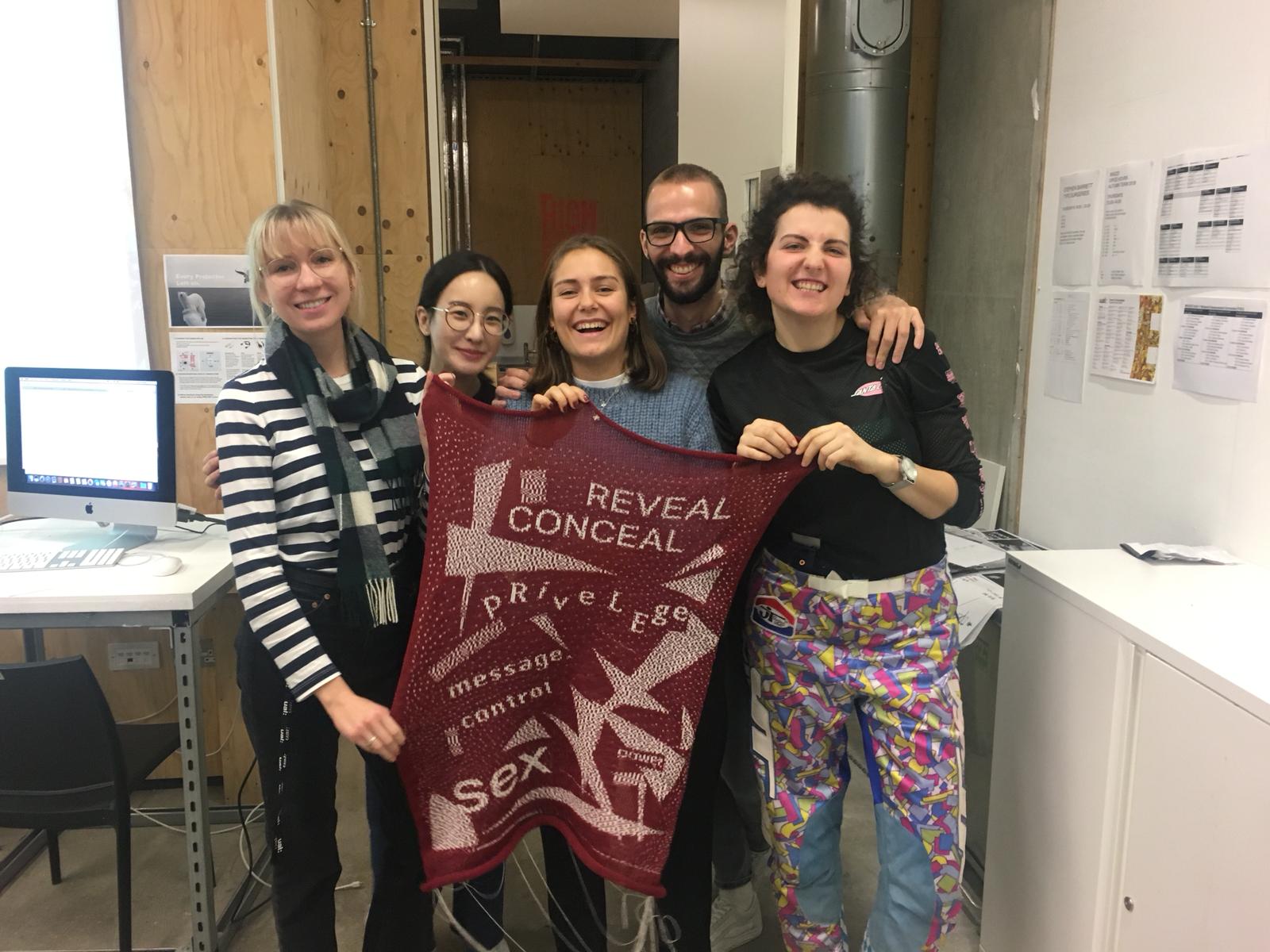 Decriminalizing Ornament: The Pleasures of Pattern

9th International Illustration Research Conference.
1-26 of November 2018, Cambridge
</unravel;> was invited to be part of this a wonderfully put up exhibition the
9th International Illustration Research Symposium at Anglia Ruskin University
, (Cambridge, UK), 17-18 of November.
This two-day research conference investigates the nature of pattern and ornament within the context of illustration, printing, and publishing and explores ideas and asks questions around its current state of appreciation, meaning and usage.
We are honored to be part of this exhibition with </unravel;>:Issue 1, alongside 12 other talented artists and a specially commissioned visual response by the Dutch graphic designer
@hansjevanhalem
. Her response is based on her collaboration with master printer, publisher and collector Jan de Jong.
Creative Unions + London Design Festival

15 Sept- 27 October 2018, Lethaby Gallery, London
We are honored to have been chosen to participate at the Creative Unions exhibition 2018 as part of the London Design Festival.
@elllenjonsson
& I are presenting the second iteration of </unravel;> in its red version, knitting a fairytale about seven narrators that gather to talk about fairy tales. You can see the live knitting of the story that unfolds every day, 12.30- 6pm, at the
@lethabygallery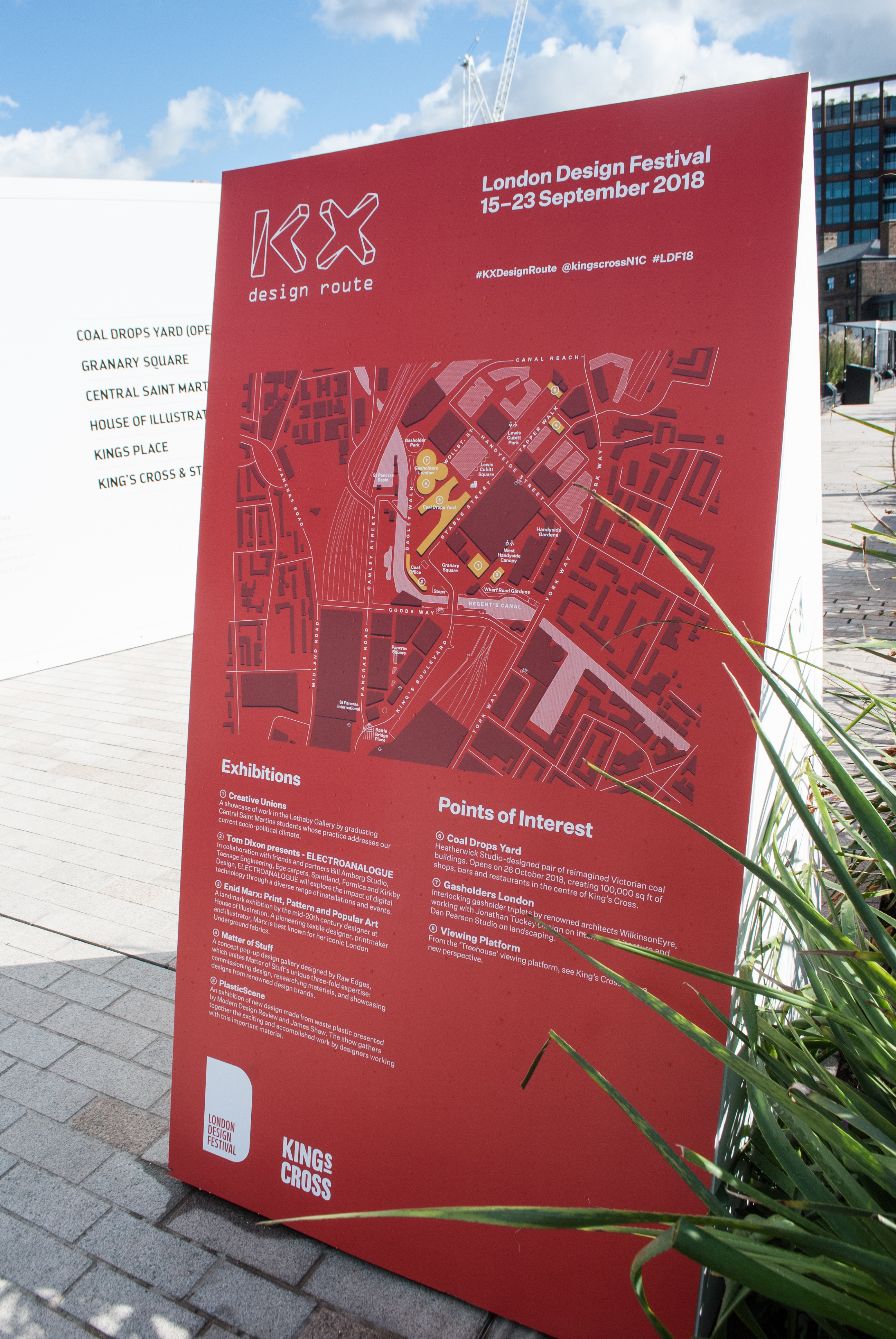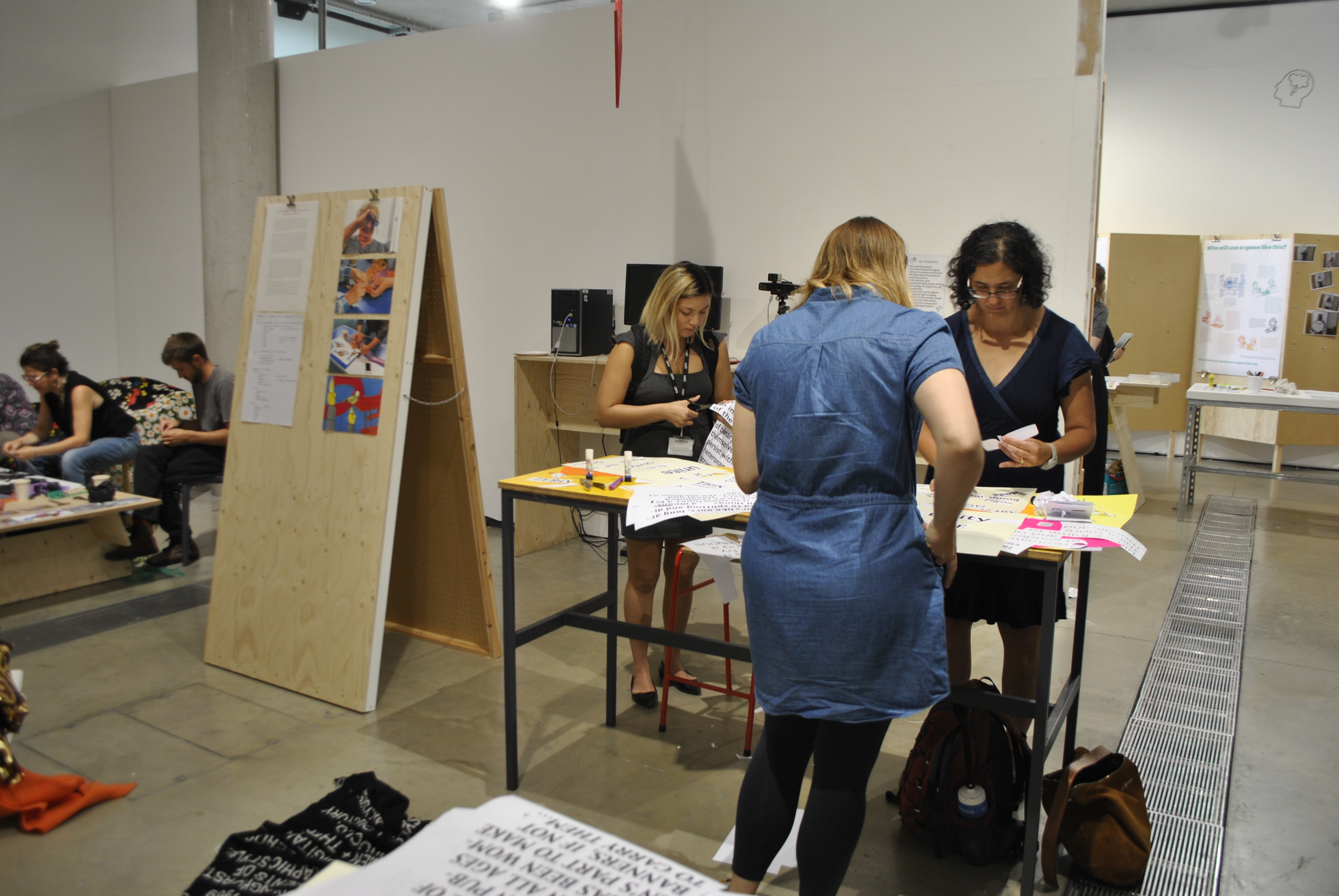 MAKE. Celebrate the power of making.

3-7 July 2018

We were asked to run a special workhop with our hacked knitting machine for Women in Making, a collaborative series of workshops together with other practitioners of the University of Arts London and Camden. For our workshop we invited visitors to cut and paste pieces of our printed research on women and technology, binaries and gender stereotypes, and create their own political banners, all of which then we knitted into one.
Degree Show Two: Design